Where we are
We are in the old Naples' Center in via Foria 216, in front of the main entrance of the Royal Botanical Gardens. All turist destinations are easily reached either by walking or by bus or Metro. Approximate distances to main tourist attractions are: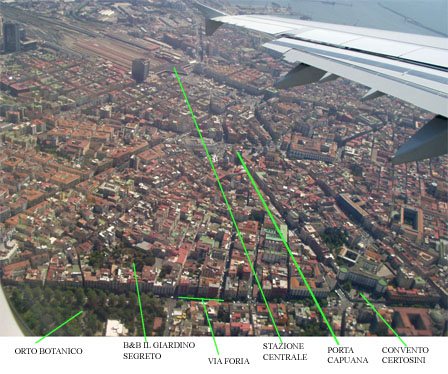 Museo Archeologico 1000 meters, Museo MADRE 500 meters, Albergo dei Poveri 300 meters, Orto Botanico 10 meters
Duomo, S. Gregorio Armeno, Spaccanapoli, Napoli sotterranea, ecc. 1000 meters
Piazza Plebiscito, Maschio Angioino, Palazzo Reale, Castel dell'Ovo, Castel Sant'Elmo, San Martino, etc. 2000- 2500 meters
bus stop 10 meters, metro station 500 meters, Central station piazza Garibaldi 1500 meters, Capodichino airport 2000 meters; boats to Capri, Ischia, Procida, Sorrento 2500 meters
Pompei, Capri, Amalfi, Positano, Ravello, Caserta, ... by train, bus, hydrofoil, ferryboat in an hour or so
How to reach us
The address is: Via Foria 216 (opposite the Botanical Garden).
Reached our door, call us by dialing 1008C at the intercom.
We strongly advise you not to take a bus on arrival (with the luggage and your belongings), but to use a taxi, asking the driver a flat fee ("tariffa predeterminata").
Otherwise, to reach us by public transport: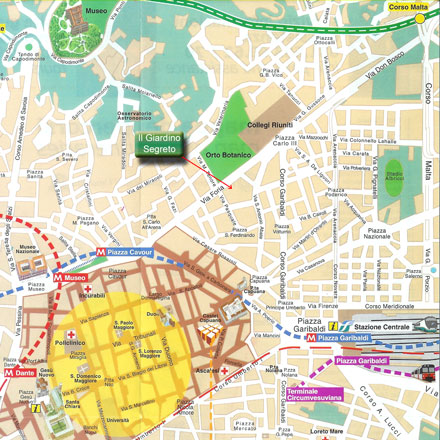 From Central Station piazza Garibaldi, bus 203 direction piazza Carlo III° stop at Orto Botanico.
From Capodichino Airport bus ALIBUS to the Central Station; from there, bus 203 direction piazza Carlo III° stop at Orto Botanico. We are not far from the airport (2 km approx.) and taxis apply fixed fare on request ("tariffe predeterminate").
From Molo Beverello (boats to Capri, Ischia and Procida) walk to Piazza Municipio, then bus 201 stop at Orto Botanico.
By Metro line 2 stops in piazza Cavour. That metro station is not far from our B&B (5 minuts walking). Otherwise, from there, take bus C47, 182, 184, or 201 (in direction of Orto Botanico) they all stop exactly at the main entrance of our building: stop via Tenore.
By car arriving from motorways, take the "Tangenziale" speedway and exit at "Doganella". From there, follow the road to the first traffic light and turn right in "via don Bosco". At the end of that street (2-3 kilometres) you get in piazza Carlo III; keep going to via Foria driving first along the "Albergo dei Poveri" (huge building erected by king Carlo III) and then along the Royal Botanic Gardens where you can park your car. We suggest to park in a garage: there are at least three of them in the vicinity (within 50 to 100 meters) they cost 15 euros per day.